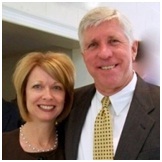 Originally from Minneapolis, Pastor Lehn earned a Bachelor's degree in Bible from Maranatha Baptist Bible College ('75) and a Master's and PhD in Church Administration from Bob Jones University ('81). Through God's leading to come to Augusta, he founded Westside Baptist in 1983. He is a warm-hearted man who manifests a shepherd's care and a servant's spirit in his ministry toward individual members of this congregation. The Westside church family continues to grow in the grace and knowledge of Jesus Christ. The church has built three buildings since its founding and is debt free.
Robert and his wife, Kay, have been married 36 years and have three adult children, and five beloved grandchildren. Adrienne and her husband, Ray, live in MD and have three children. Andrew and his wife, Victoria, have two daughters and live in NH. Anthony and wife, Leah Rose, reside in Charleston, SC.
Robert enjoys hiking, traveling (especially by train), serving as Baseball Chaplain for the Augusta GreenJackets, and spending time with friends and family (especially being "Papa" to the grandkids).